What is POS and Packaging Taping?
Packaging taping is the tape we use to seal up packages and orders. These might be boxes, cartons, or other packaging used as part of our automated and hand packing services.

POS taping is the use of branded tape for a similar purpose. By adding branding to taping, even the packaging helps enhance brand recognition and product visibility for our customers, encouraging impulse purchases and ensuring a memorable brand.

It is also versatile, making it perfect for use with a range of products.
Speak With Us Today
Why is POS and packaging taping important?
POS and Packaging Taping are both key parts of packaging. They not only keep products secure and protected, but also help with presentation and marketing.

Both types of taping are different, but are equally important when it comes to security of the products inside, as well as brand recognition and presentation for our customers.
Why is packaging taping important?
Packaging taping is an easy-to-use, cost effective, secure part of the packaging process, making it ideal for sealing boxes, attaching labels and general packing applications.

Various types of tape can be used, allowing us to use the most appropriate tape for the product and the way it will be transported. This can include heavy-duty packaging for heavy and bulky items to keep them secure and prevent damage, or tamper-evident tape to ensure secure distribution of products and packages.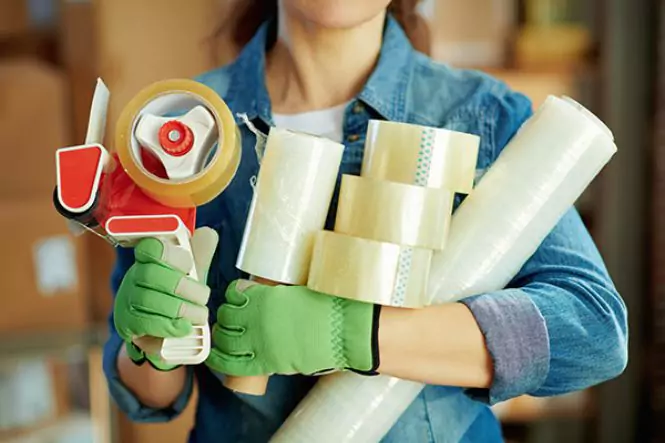 Why is POS Taping important?
POS Taping not only seals product packages securely, but can help with product marketing too.

Using branded tape on packages can help products stand out and catch customers' eyes, encouraging them to buy your products over your rivals'.

As well as inspiring customer purchases, POS Taping that showcases a brand identity can reinforce that brand image in people's minds, ensuring they remember it and recommend it.

This makes POS Taping particularly popular for retail products, including food, cosmetics and other personal items such as gifts.
Choosing the right taping for your product
At PRFM we use a wide variety of taping products to make sure we've got the perfect one for the job, whether it's Packaging Taping or POS Taping.

The type of tape used for packaging taping varies based on the product itself and the conditions it will be exposed to during distribution. For example, fragile items may require a tape with higher adhesive strength and durability to protect what is inside the package, or certain packages may also need tamper-evident tape to discourage theft or tampering.

The tape can also vary depending on the conditions it will be exposed to while in transit. For example, products shipped to areas with extreme temperatures or humidity will need a tape that can withstand such conditions.